The Macintosh 1984 case design rumor has an end!
June 18, 2013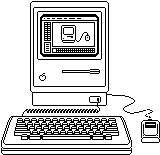 Dear Vectrex Friends,
there was this rumor around that the Macintosh 1984 case design was inspired by the 1982 Vectrex case design concept. I contacted the Macintosh 1984 case designer Jerry C. Manock and asked him this simple question, (followed by is his answer):
Was the design of the Macintosh 1984 inspired by the Vectrex 1982 in any way ?

Absolutely and emphatically NO!
I have no knowledge of the 1982 Vectrex and have never seen one.
JCM